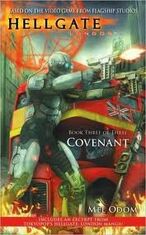 Convenant
is the third novel based on
Hellgate: London
video game which was released on Halloween 2007.

As Templar Simon Cross fights to lead the hunted survivors of the demon surge toward salvation, time and supplies run short. Simon must penetrate the dark secrets of the demons -- as well as those of his partner in peril, Leah Creasey -- to keep his charges safe. But Leah's organization won't surrender their knowledge easily, even as new technology emerges from theGoetia Manuscript that could help Simon's cause.
Warren Schimmer, linked to one of the darkest of the hellspawn -- the demonic Lilith -- is himself also targeted by infernal forces. No longer able to hide, Warren must emerge as a leader and turn a ragged band of Cabalists into an army. But when a vicious weapon that uses dreams against the human survivors of the city draws the Templars, the Cabalists, and the Hunters into the same arena, will they join forces...or turn against one another?
Ad blocker interference detected!
Wikia is a free-to-use site that makes money from advertising. We have a modified experience for viewers using ad blockers

Wikia is not accessible if you've made further modifications. Remove the custom ad blocker rule(s) and the page will load as expected.