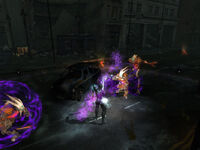 Also called True Demons, these are the organized beings that command the lesser castes and are the primary cause of the apocalypse. Mostly humanoid in form, they often use weapons and equipment in their vile pursuits, and some have even been seen using human-created technology, although they tend to favor devices of their own fabrication. Their intelligence, use of weaponry, and the ability to attack from both range or in hand-to-hand combat make them a dangerous and unpredictable enemy. Demons also wear armor that is commonly resistant to traditionally infernal types of damage, such as fire and employ mystic shields to safeguard them against more temporal forms of damage.
Ad blocker interference detected!
Wikia is a free-to-use site that makes money from advertising. We have a modified experience for viewers using ad blockers

Wikia is not accessible if you've made further modifications. Remove the custom ad blocker rule(s) and the page will load as expected.